Pay a visit to one of Canada's most glorious settlements, Quebec City. This living museum of cobblestone streets, towering church spires, and centuries-old houses. It has a truly unique and magical appeal and is always glad to entertain its visitors. Give in to this enchanting allure, and attend dazzling festivals all summer long.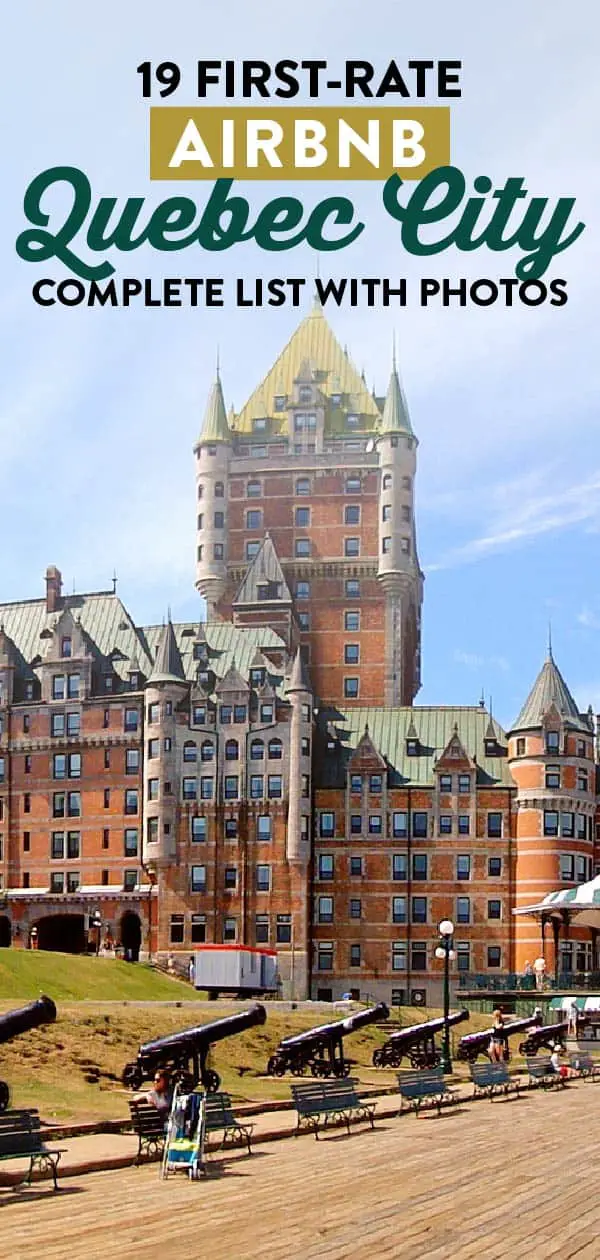 What are the best Airbnb in Quebec City?
Explore Quebec City and its audaciously elegant scenery, however, make sure that you find the best vacation rentals. To help you out, we have compiled a list of top lodging options for your visit, to ensure you get a truly memorable experience.
Here are 20 top-notch Airbnbs in Quebec City, so make sure you review those options and find out which one suits you best.
A truly unique home on this Airbnb Quebec city list, dating from the 1800s located close to the city center that can accommodate up to 6 guests. For the authenticity sake, the stone walls were preserved, but the rest of the house has been completely renovated and modernized. The house features high ceilings, comfortable beds, fully equipped kitchen, and parking spaces, making it a perfect option for both families and solo travelers. Go ahead and see this perfect Airbnb Rental in Quebec City!
6 guests | 3 bedrooms | 3 beds | 2.5 baths
Stay in this immense and luxurious property that is a 15-minute drive away from some of the major QC attraction. Furthermore, grocery stores, restaurants, and pharmacy are all within a walking distance. Should you choose to stay here it will be a perfect opportunity to visit water amusement park Valcartier and/or Sieging Wendake native American village and explore all the other things to do in Quebec City. Up to 8 people can stay here, so it is an amazing family getaway.
8 guests | 4 bedrooms | 4 beds | 1 bath
A beautiful, wooden interior home built back in 1898, and very close to old Quebec (only 5 minutes on foot) is one of the best places to stay at. Guests have access to a well-equipped kitchen as well as the living room area. One of the features you will surely love is table football in the living room, which has been one of the favourite pass time activities for a number of prior guests. An excellent lodging option if you are travelling as a group, since it can accommodate up to 10 people, has 4 bedrooms and 3 baths.
10 guests | 4 bedrooms | 5 beds | 3 baths
Lodge near the Montmorency Falls in Le Pionnier, is a newly renovated unit, and one of your new favourite Vacation Rentals in Quebec City. The place is within a walking distance of Montmorency Waterfalls and 10 minutes drive from both Old Québec and d'Orléans. For all binge watching enthusiasts out there this place is a real paradise, as it has Netflix, and also a spacious and secure backyard where your children can play. The house also has a BBQ you can use, workspace (for those who are on a business trip), and a crib in case you are coming over with a baby. The place is family friendly through and through, it has 3 bedrooms, 4 beds, and one bathroom.
8 guests | 3 bedrooms | 4 beds | 1 bath
A perfect Airbnb rental in Quebec City. A truly luxurious lodging option to say the least. It is a very comfortable family unit, within a short driving distance of Quebec City centre. Quality construction and interior design, are just the tip of the iceberg of what you can expect, should you choose to stay here. There are many features you will love like multiple channels/Netflix home theatre, queen size beds, huge kitchen, gym, and probably two of the best perks jacuzzi in the basement and a pool in a backyard.
10 guests | 4 bedrooms | 6 beds | 3 baths
This home is close to the bridges and downtown, and anyone who appreciates nature will find it one of the best places to stay in Quebec. The garden is really spacious and it is a great place to unwind and enjoy the sunset or your morning coffee. If it gets too hot, feel free to use the pool to cool off, and if you want to get warm and cozy there is also a hot tub. One of the things that you will rarely find in other options is that this Airbnb in Quebec City is semi pet-friendly, as it allows guests to bring smaller pets.
8 guests | 3 bedrooms | 5 beds | 2 baths
The lodging is in the near vicinity of Québec city, Île d'Orléans and Montmorency Falls, and has a really luxurious interior. There is a TV in every room and on top of that, it has an amazing home theatre. It also has a gym, a washroom with a beauty station, and there is a solarium nearby as well. The owner of the house also offers boat rides, so if you want to see the city from the water this would be a good chance to do so.
8 guests | 4 bedrooms | 4 beds | 1.5 baths
Much like the name suggests this Quebec City Airbnb is a lovely cottage, minutes away from the city, and fully equipped with everything you need to enjoy your stay. The home caters to all of visitor types, families, solo travellers, couples, and business trip travellers. There is a TV in each room, and a pool in the backyard, heated through June to September. Also, you can take advantage of having a ski centre nearby.
6 guests | 3 bedrooms | 3 beds | 1.5 baths
Enjoy your stay at St-Francois Ile d'Orleans, a lovely home situated on a 75,000 square feet property. A little known fact, this house is over 250 years old, which means it was built back in the 18th century. It is spacious and can accommodate up to 8 guests, and it is near the beach where you can walk to the tip of the island and enjoy a beautiful view. It has a big fireplace in the living room, which makes it perfect for a warm and cozy, winter vacation.
8 guests | 3 bedrooms | 5 beds | 1 bath
A remote ancestral stone home built in 1734 that can accommodate a party of 10 people. There are no TV and WiFi, so if you are looking for a perfect escape from bustling city tumult this is the place to be. One important note, make sure you arrive there before nightfall, as there are no lights on the country lane, so you can easily miss the place. Moreover, to make your relaxing experience even more complete, this Airbnb in Quebec City has a spa that is functional year-round.
10 guests | 5 bedrooms | 6 beds | 1.5 baths
A lovely and cozy accommodation, situated near 15 minutes from downtown Quebec City. It is a great option for families as there are a lot of accessible outdoor activities like Mont-Tourbillon Golf Club, Le Relais Ski Resort, and Lac Beauport Nautical Club. Also, you will be able to funds restaurants, grocery stores, even microbrewery, bakery and pizza place in the near vicinity. The atmosphere is friendly and relaxed so you are more than welcome to give this place a shot.
8 guests | 4 bedrooms | 4 beds | 1 bath
This is a perfect option for a larger group of people and it is located at the bottom of the Stoneham Ski resort, and it is just 20 minutes away from downtown Quebec City. The home also features a private spa, which will surely be your favourite place to sit back and unwind after a long trip. There is also a football table in the salon, so if more of you are coming over to this Airbnb Quebec City you can even throw a small competition.
12 guests | 4 bedrooms | 7 beds | 2.5 baths
Spend your time in a house that is just 15 minutes driving distance from Old Quebec. The house is very spacious and can accommodate up to 8 people. It is perfect for families with kids, as it has WiFi access, TV, and a variety of games to keep them occupied. The bus stop is just in front of the house, so if you do not have a car you will be covered as far as transport goes as long as you have a travel guide. Feel free to make good use of the courtyard and sit around the cozy fireplace where you can unwind at night. Finally, if you like playing pool then this Airbnb in Quebec City is a perfect fit.
8 guests | 3 bedrooms | 4 beds | 1 bath
One of the best vacation rentals, a cozy and spacious home filled with attractive perks. For families visiting Quebec City, this is a dream come true. Two living rooms, two bedrooms, pool table in the game room and also a swimming pool in the front yard. If you are a fitness enthusiast you'll be glad to hear there is a free gym in the building where you can work out, and if you need to ramp up your protein intake you should definitely take advantage of the BBQ.
4 guests | 2 bedrooms | 2 beds | 2 baths
A little more remote lodging than other entries on the list, as it is 25 minutes away from the Quebec City centre. It has a truly tranquil and lovely front yard and garden, a breathtaking view over the majestic mountains and lake, and the house aesthetics, in general, are simply magnificent. If you are a photographer you will love this Canada Airbnb, since you also get access to a boat so you can go around the lake and take photos of a picturesque landscape. Finally, there is a ski centre just 10 minutes away from here, so it is a perfect choice for your winter holidays.
4 guests | 2 bedrooms | 2 beds | 1 bath
The home lives up to its name, every room, house exterior itself, and the backyard look truly amazing and luxurious. It can easily fit up to 8 people and the location is also great, as it is only a few minutes away from grocery stores and restaurants. It is 15 minutes away from the old town by car, and there is also a beautiful park nearby where you can play volleyball or tennis. As guests, you will have access to the first and second floor of the residence as well as the garden with the pool.
8 guests | 4 bedrooms | 4 beds | 2.5 baths
Stay here in a lovely chalet really close to the Le Relais ski center. With 4 bedrooms and 4 beds, this Quebec City Airbnb can easily fit 8 people. As guests, you'll have access to a gas fireplace, BBQ, both cable tv and Netflix and private terrace. If you are a bike enthusiast the owner can guide you to the best biking track in the region.
8 guests | 4 bedrooms | 4 beds | 1 bath
If you are looking to stay between Old Quebec and the Mont Ste-Anne ski slopes then you should definitely give this place a try. It is in the near vicinity of Orlean Islands and Montmorency Falls Park, it is fully equipped to accommodate more than one family. It also has a charming room with a crib if you are bringing a baby with you. The interior looks amazing and you can have some quality family time on a patio or in front of the 55-inch TV.
8 guests | 3 bedrooms | 5 beds | 2.5 baths
A recently finished construction with 5 bedrooms and spacious enough for up to 12 guests. The place is just minutes away from Quebec downtown and it is also near Valcartier water amusement park. Enjoy this stylish indoor design and feel free to just sit back and relax while watching Netflix in this perfect Airbnb Rental in Quebec City!
12 guests | 5 bedrooms | 5 beds | 2 baths
Conclusion
We hope you loved our this list of Airbnb properties and it helped you find a great place to stay. Have you stayed in any of the Airbnbs on our list? Or have you found other great Airbnbs in this city that you are keen to get featured? We are always on the lookout for great experiences and amazing places to stay. Join the conversation and let us know below.
Looking for great Airbnb vacation rentals in other cities? Check out some of our favourites below.