Around 20 miles from Idaho border you can find a cultural centre and best pet-friendly Airbnb in Spokane Washington. Spokane is the second-largest city in Washington but with its desert landscape, it is unlike any other city of this state. 
Regardless if you are in pursuit of urban excitement or outdoor adventures, Spokane welcomes any visitor with a broad assortment of things to do. One of the must-visit places in Spokane is Riverfront Park that is the home to Spokane Falls. Moreover, in the South Hill Neighbourhood, you can find one of the most beautiful botanical gardens in the US called Manito Park. And if you are interested in come cultural happenings, you can always hop over to the Martin Woldoson Theatre at The Fox, and take a look at their repertoire and find out more about the interesting history of the building.
Visiting Spokane is a charming experience. But to make this experience even better we have compiled a list of 9 best pet-friendly Airbnb in Spokane Washington, so you and your fellow travellers could find a perfect home in no time.
The Beehive is a charming cottage where four people can find some peace and relaxation after a day of exploring Spokane. Located on the South Hill, in the Perry District, this cozy home is only five minutes away from downtown. Apart from the charming interior, guests also have access to both the front and backyard.
A maximum of two pets are allowed on this property, and you will need to contact the owners prior to arrival to let them know if you are bringing your pet along. The hosts have made sure to provide everything for their guests from a grill in the backyard, to DVDs, games and colouring books for a quiet time at home.
4 guests | 2 bedrooms | 2 beds | 1 bath
Located in Comstock and Manito Parks neighbourhood, this pet-friendly Airbnb in Spokane Washington is perfect for four people looking a new and clean house with a touch of vintage. With one bedroom, one bathroom with high-quality linens, a kitchen with all the necessary pots and utensils, you will have everything that you need at hand's reach.
You should remember that bathroom is accessible only through the bedroom. Therefore, this accommodation could be more suitable for families, or a group of friends who have no problem with this kind of arrangement.
4 guests | 1 bedroom | 1 bed | 1 bath
Across the street from Clark Park and just minutes away from downtown Spokane, you could book a 1.5 story home that can easily fit up to 10 people. Featuring four bedrooms, six beds, and two bathrooms, this pet-friendly Airbnb in Spokane Washington offers both space and comfort. You can even enjoy a bird-eye view from the deck.
The easy access to the park provides an ideal opportunity for both pet owners and families travelling with kids to have regular daily activities. If you are travelling with kids you should notify the host who will gladly provide you with a stroller, a high chair, and a pack & play.  
10 guests | 4 bedrooms | 7 beds | 2 baths
Near Audubon Park and Downriver Grill is a pet-friendly Airbnb in Spokane Washington that can accommodate up to 14 guests. Only a 7-minute drive from the heart of downtown, this cute and cozy house features five bedrooms with eight beds and two bathrooms. A family-friendly environment, with a bunk room that is filled with kids books and toys, is every family's dream. 
You don't have to worry about leaving your car far away from your accommodation because free parking is secured on the premises of this Airbnb rental. Close to different trails you will have plenty of options for different activities. However, if you want to spend a relaxing day at home, you have full access to the backyard as well.
14 guests | 5 bedrooms | 9 beds | 2 baths
The Garland District hides another pet-friendly Airbnb in Spokane Washington. This bungalow, featuring two bedrooms and one bathroom, can accommodate up to 6 visitors. By booking this rental you will have a plethora of bars, bookstores, and restaurants in the vicinity like Milk Bottle and Ferguson's Diner.
The visitors have access to the entire home. Moreover, you can store any extra luggage like recreational equipment in an unfinished basement. The friendly host has provided its visitors with free parking and also a charming yard where they can unwind after a long day.
6 guests | 2 bedrooms | 3 beds | 1 bath
This beautifully decorated pet-friendly Airbnb in Spokane Washington is also known as 'The Blue Bungalow'. What happens when the irresistible charm of the '50s meets modern amenities? You and four other friends can discover if you rent this charming Airbnb home. 
Situated near South Helen Street, this Airbnb two bedrooms with three beds and two bathrooms. It also includes a fireplace that can serve as a great addition for a romantic and comfortable night in.
5 guests | 2 bedrooms | 3 beds | 2 baths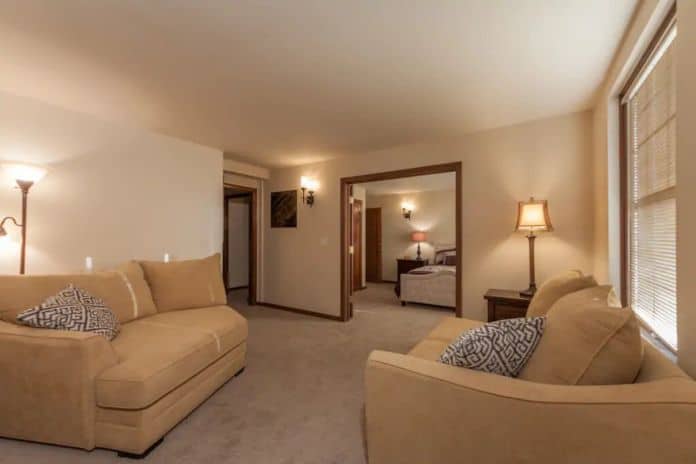 A group of four and their furry friend can feel like royalty in an Airbnb that is listed on the historic registry. Located in the Kendall Yards area, this condo gives you access to two larg bedrooms, a completely stocked kitchen, and a bathroom. You can have a picture-perfect view of the Centennial Trail and Spokane River. 
An onsite designated parking area combined with easy access to Kendall Yards strip makes this Airbnb into a rental that should not be overlooked. However, you should keep in mind that in order to access the apartment you will need to climb some stairs. 
4 guests | 2 bedrooms | 2 beds | 1 bath
Fans of classic houses and a boutique decor will adore this pet-friendly Airbnb in Spokane Washington. A 1924 home situated in Comstock & Manito Parks neighbourhood could be an ideal home away from home for seven guests. No matter if you are interested in fantastic shops or an outdoor adventure, you will be minutes from any activity that you might think of. 
High-quality linens with fluffy down duvets will make yous sleep relaxing in any of the three bedrooms available. Furthermore, wood floors and original painting throughout the rental will make this rental into a safe oasis that you will return to after an adventurous day in Spokane.
7 guests | 3 bedrooms | 5 beds | 2 baths
A fairytale-like cottage is perhaps the best description of The Birdhouse. If you are looking for a quiet neighbourhood where you and five others can get some rest, then this is the pet-friendly Airbnb in Spokane Washington for you. Three bedrooms and two bathrooms will be more than enough for your entire group to settle in your temporary home in Spokane.
The warm interior will help you find peace after a tiresome day of seeing new and exciting things. And if you are not smitten by what's inside, then you should head out to the porch and just enjoy the view of the beautiful yard with a fountain.
6 guests | 3 bedrooms | 4 beds | 2 baths
If our suggestions have led you to your home away from home in Spokane, let us know in the comment section. We just can't wait to hear your thoughts on these Airbnbs rentals! Safe travels!