A new-age American city infused with Latin flavors, amazing waterways, and vibrant downtown perfect for a traveler looking for adventure and fun time. With a mix of modern and historic architecture, is it also the home to the best pet-friendly Airbnb in Tampa Florida rentals. So grab your suitcase and your furry friend, because Tampa Bay awaits.
No matter if you are in need of a quiet and relaxing walk next to the river or hip bars and exclusive restaurants, Tampa has it all. As a matter of fact, you can paddle down Hillsborough River or join tequila tasting at a margarita festival. In addition, if you are interested in exploring Tampa's artistic scene you can take a look at the schedule for all future performances at the Straz Center. Only a short 30-minute drive to the beach and exciting city life make Tampa perfectly located for people of all ages and interests.
In order to help you prepare for your trip to this thrilling city, we have researched all pet-friendly Airbnbs that Tampa has to offer, and created a list of the best accommodations for you and your pet. 
A group of 7 people looking for peace and quiet, can find what they are looking for in this 2-bedroom and 2-bathroom Airbnb. This perfect suburban home in South Seminole Heights is located only 2 miles from downtown, with a flourishing bar and restaurant scene. 
This cute and cozy bungalow is an extremely clean space where both you and your pet can enjoy after a day of exploring Tampa. If what you are after is an accommodation in a charming Tampa neighborhood, then this is the place for you. 
7 guests | 2 bedrooms | 4 beds | 2 baths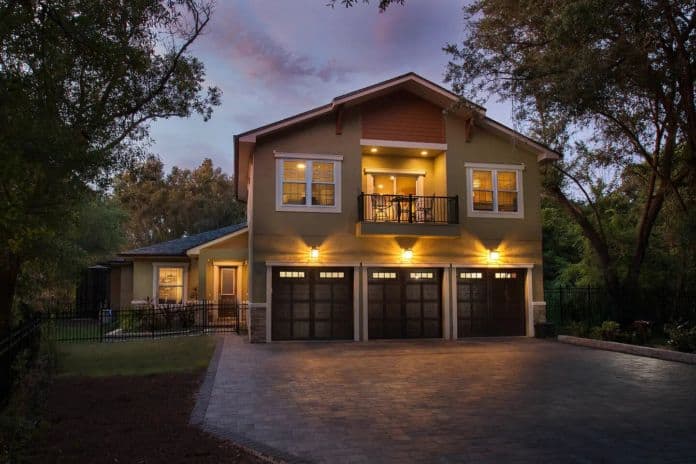 Traveling with your special someone, and your pet? This can be exactly what you need. Super romantic guest suite with fully equipped bedroom, bathroom, and kitchen. If opting for this Airbnb in Tampa you would be located in the Lake Magdalene area, close to Busch Gardens and Lowry Park Zoo.
Even though your accommodation is a part of a big house you will have complete privacy. Additionally, with a secured gated area, you will feel completely safe, and won't have to worry about your pet.
2 guests | 1 bedroom | 1 bed | 1 bath
No matter if your trip to Tampa is short or you are interested in accommodation for a longer period of time. Because for this Airbnb, you will only have to bring a change of clothes and your pet. With 3 bedrooms it can easily accommodate up to 8 people in the heart of the University Area. 
Nothing says AWESOME VACATION like a jacuzzi! And that is exactly what you can have if you pick this pet-friendly Airbnb in Tampa Florida. Moreover, for the guests' ultimate security, the superhost has provided a smart-security system as well as a fenced backyard. 
8 guests | 3 bedrooms | 3 beds | 2 baths
Give yourself and your pet a royal treatment by renting this renovated historical house with a hot tub. Boasting 11 beds, this house can receive up to 20 guests with certain sleeping arrangements. So if you are having a group trip then look no further, because this Seminole Heights property is all that you need.
Even though you will be only some 8-minute drive away from downtown, you can also enjoy long walks around the quiet neighborhood. Moreover, you could take a tour od the nearby bars, restaurants, and breweries which are amazing.
16+ guests | 3 bedrooms | 10 beds | 2 baths
Just minutes away from the University of South Florida, you could book a 1200 sq ft Airbnb for you and seven other people, but also your furry friend. Situated near Busch Gardens it can serve as a fantastic base for your Tampa adventure. In fact, you could explore Tampa during the day, and return home to rest at any of the 3 bedrooms. Or simply relax in the living room by playing PlayStation 4 on a smart TV.
However, if you just want to spend the day at home, there is no need to worry. Featuring a lovely backyard, you can use the charcoal grill and organize a barbecue for you and your friends or family. Or simply find some peace and tranquility in the furnished patio. 
8 guests | 3 bedrooms | 3 beds | 2 baths
A very spacious and beautifully arranged home can accommodate 9 guests or even 13 with some additional mattresses. Furthermore, with all important locations like USF, Lowry Park, and Busch Gardens nearby, you will have no problem reaching any part of Tampa. Also, this 4-bedroom 3-bathroom home is upgraded with a swimming pool, that is available year-round.
A family-friendly home, with easy access to downstair bedrooms, will fit anyone's budget. Clean and spacious, this pet-friendly Airbnb in Tampa Florida is every pet owner's dream.  
11 guests | 4 bedrooms | 5 beds | 3 baths
A Pet-Friendly Rental Advice From You
If you liked this article let us know in the comment section below. We are eager to hear about your stay in Tampa, as well as any accommodation tips you might have for all future travelers.