Unlike other USA cosmopolitan cities, Phoenix Arizona offers its visitors a unique experience of the urban energy surrounded by the fascinating desert landscape. It is also the home of some of the best pet-friendly Airbnb Phoenix Arizona rentals that you and your pet can enjoy.
Look as the city unveils under your feet on top of the Camelback Mountain or take your furry friend for a long walk around Papago Park the home to the Desert Botanical Garden and Phoenix Zoo. Get familiar with the culture of Phoenix at the Heard Museum, Phoenix Art Museum, and Musical Instrument Museum. And to wrap up a perfect day you can choose between a laid back evening at Roosevelt Row or an adventurous hike through the South Mountain Park and Preserve from which you can have a fantastic view of the entire region.
And most importantly, you can enjoy all these attractions without having to leave your pet friend at home. So we have provided you with a list of top 11 pet-friendly Airbnb Phoenix AZ properties, that can be yours for as long as you need them to.
A true desert fantasy. This fantastic property in Cave Creek, a Western-themed town, will be ideal for a larger group since it can accommodate up to thirteen people. With so many golf courses, hiking trails, saloons, bull riding activities, and shops nearby it can be used by a group of friends who are looking for an exciting getaway location.
This enormous property with a huge pool is the place where you want to be when the sun begins to set. Secure and quiet neighborhood completes the relaxing package that this pet-friendly Airbnb offers. 
13 guests | 5 bedrooms | 5 beds | 3 baths
Up to 12 people and a pet can relax and forget about their worries in this Tuscan Style home. Secluded within the natural desert landscape, every corner of this property is carefully designed to represent the true spirit of Arizona. With four bedrooms, three bathrooms, and a breath-taking pool surrounded this property can be a place of tranquility and rest after a long day of exploring the nearby attractions like Piestewa Peak or Dreamy Draw Park.
And if you get bored inside this rustic house, you can always explore the many patios that this home has to offer. Along with its kind and responsive host, your every requirement and need will be met. 
12 guests | 4 bedrooms | 7 beds | 3 baths
But not everyone likes to travel in large groups. For those adventurers, who are looking for a more luxurious stay, away from hotels, this private guesthouse can be a possible solution. Two guests and their furry friend could have fun throughout this entire home. Located in the heart of Paradise Valley and Scottsdale area, this pet-friendly Airbnb Phoenix Arizona has a splash pool and a large shared backyard.
Visit Phoenix and stay close to all the grand attractions, but still be able to enjoy the tranquility of a peaceful environment in the evenings. Comfort and plenty of space are guaranteed in this lovely home.
2 guests | 1 bedroom | 1 bed | 1 bath
A more modern solution for a larger group of fourteen people. Even though this house has some vintage features here and there, it will provide its visitors with a glimpse into the life of modern-day locals. It is also a perfect place for q person with a disability to enjoy a lovely stay. 
The hot tub can be used from December until February, but there is a pool for those hot Arizona summer days. Moreover, the one who gets the master bedroom can indulge himself/herself with a jacuzzi bath. 
14 guests | 3 bedrooms | 9 beds | 2 baths
A modern version of a rustic Arizona style, that will make you feel like you are one with your surroundings. A family of four or a group of friends can turn this guesthouse in the northern part of Phoenix into a base for further exploration of this enchanting area. Only 25 minutes away from downtown Phoenix, you could have it all – the proximity of every possible attraction but also the magical view at night. 
But the pictures of this pet-friendly Airbnb Phoenix Arizona rental do not do it justice. Since its superhosts make this spotless home into what it is – a true pleasure to stay at. 
4 guests | 1 bedroom | 2 beds | 1 bath
A budget-friendly solution for people who travel with their pets. If you are looking for a place that is not that pricey but with all the necessary commodities to provide a good stay, then you might consider this option. Only 8 minutes from downtown, in the Arcadia Light District, you could relax in a big suite that allows smoking in the yard, but also has a jacuzzi and a saltwater pool. 
A door locking system will make you feel safe and you will without any care be able to take a closer look at different restaurants in the area. Also, very convenient for people who need a place to stay near the airport. 
2 guests | 1 bedroom | 1 bed | 1 bath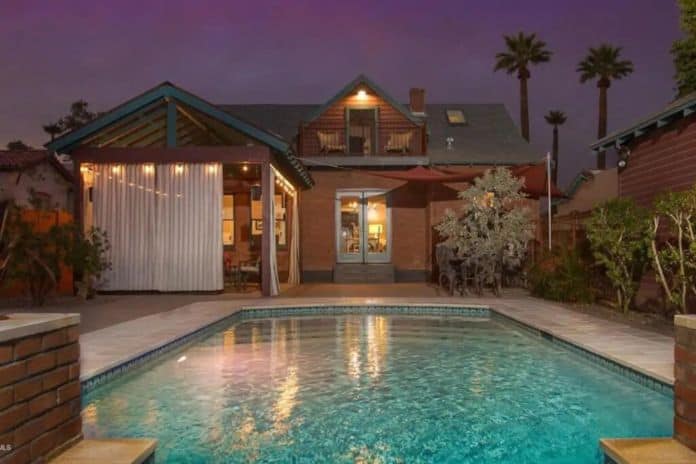 Just what your Instagram picture needed. One of the most beautiful properties on our list that is also budget-friendly is this pet-friendly Airbnb. You can take your girlfriend or boyfriend on a romantic trip to Phoenix and make this your getaway home. It is also a perfect match for any group of six visitors and this pet who wish to stay at a spotless, spacious, and safe house with a pool. Most importantly, this Airbnb rental is located in the artists' part of downtown, so you would in the center of all happenings.
Moreover, this unique rustic home with modern, original features will turn your every Phoenix memory into an unforgettable one.
6 guests | 2 bedrooms | 2 beds | 2 baths
Only 10 minutes away from old town Scottsdale, you can book an entire house that can easily fit up to 6 people. You will find that the house has been recently remodeled to meet your every need. It is a quaint home, welcoming all visitors who are looking for a place where they can relax and enjoy. 
Although this home is located very close to different restaurants, the friendly host is also there to point you in the right direction and give good suggestions about what you should do during your stay. 
7 guests | 2 bedrooms | 5 beds | 1 bath
Nestled between Arizona Grand Resort and the Buttes Resort, only 10 minutes from the airport, is this pet-friendly Airbnb Phoenix Arizona rental that is fun for children, cool for friends, and a heaven for you. With a three-bedroom and one-bathroom arrangement, it can easily welcome up to 7 people and a pet friend. Use all the potentials of its huge yard by sunbathing by the pool, grilling, playing darts, or just reading a book. 
Don't worry if you left toothbrush or your dog's water bowl – the lovely host will provide you with all the essentials that are needed during your stay.
7 guests | 3 bedrooms | 3 beds | 1 bath
No matter if you are a golfer, on a business trip, or just vacationing for pleasure. This rental is an absolute must for anyone traveling with many others (no more than eleven). Located in North Scottsdale, Tatum Villa has four bedrooms that are at your disposal, as well as a pool, hot tub, a BBQ grill, a patio, 
Plan a day indoors, and prepare a delicious homemade meal inside a fully stocked kitchen. Due to the abundance of space inside the house, there is no need to worry about feeling crowded and nervous. Therefore, there is plenty of room for everyone. 
11 guests | 4 bedrooms | 4 beds | 2 baths
Yet another picture-worthy home that will make anyone admire your trip and your home away from home. Beautifully designed and decorated, this pet-friendly Airbnb Phoenix Arizona vacation rental boasts 5 bedrooms and 4 bathrooms. Therefore, up to 12 lucky people can take advantage of the opportunity to stay at the house as beautiful as this one. Located near Sunset Ridge, it can also be ideal for staying extremely close to all activities and attractions. 
Even though a picture says a thousand words, in this case, they can only provide you a mere glimpse of it. If you do decide to book it, you will find it more spacious and more amazing in person. 
12 guests | 5 bedrooms | 12 beds | 3 baths
Thank You For Reading!
I hope that this list will be helpful for your next trip to Phoenix, Arizona. If you have decided to pick an Airbnb of this list, you are more than welcome to share your experiences. Write to me in the comment section below! Safe travels!